Case Studies
Ludlam Trail
The Story
Altis Ludlam Trail is a mixed uses project located in the Bird Road development area in Miami, Florida. Ludlam Trail comprises 312 ultra-luxe apartments with an average size of 820 square feet. The seven-story midrise contains 323,745 gross square feet of apartments, a parking garage, amenities, and retail. The design of the building splits it into three sections, with the parking garage in the middle. The structure of the building is primarily pile caps and grade beams below grade, and concrete columns, beams, CMU, and shear walls above grade, supporting 6" concrete slabs on each floor.
The project was designed in 2D AutoCAD, and there was not any 3D coordination done before our involvement. The owner hired a third party to create the architectural and structural models for coordination purposes. BIMWERX was hired to coordinate the trade contractors and provide mechanical and plumbing modeling, coordination, and shop drawings. Throughout the course of the project, BIMWERX updated the architectural model to incorporate ceiling modifications needed to facilitate a coordinated model.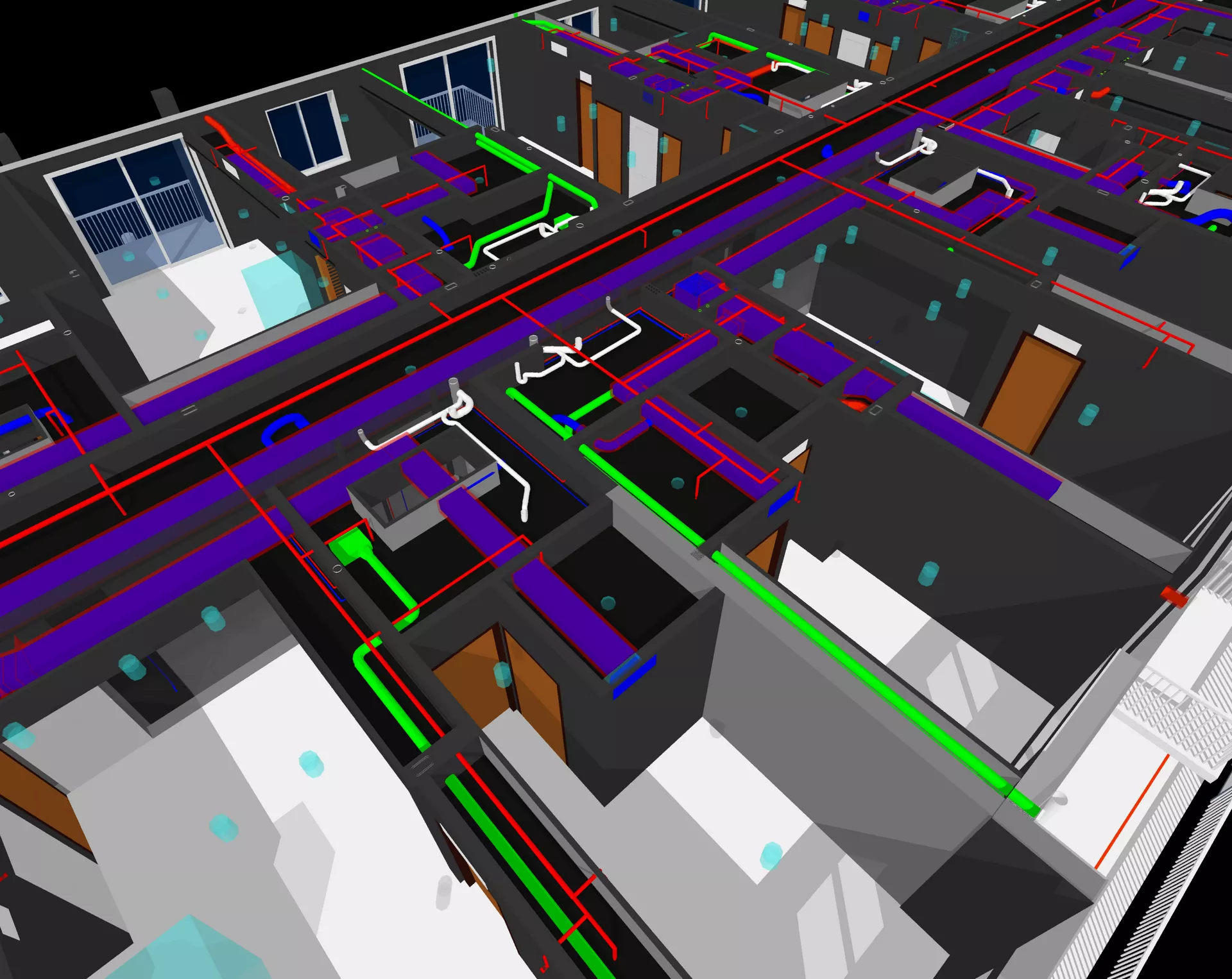 Objectives
The project was straightforward, being a consistent layout for most levels; however, the structure posed many obstacles due to the location and depth of the concrete beams. Many workarounds needed to occur due to toilet and plumbing stack locations. The floor-to-floor heights provided challenges throughout the building due to sanitary piping connecting showers and tubs to toilets being limited by the ductwork, all trying to fit into tight overhead spaces. In most units, the mechanical closets were adjacent to the washer/dryer closets, which attempted to utilize the demising wall between them to locate the dryer box and hookups, along with refrigeration, condensation drains, and domestic water lines. Having done many multifamily projects, the BIMWERX team leveraged the knowledge from past projects to efficiently get all mechanical and plumbing routed through the building while coordinating with the electrician and the fire protection subcontractors.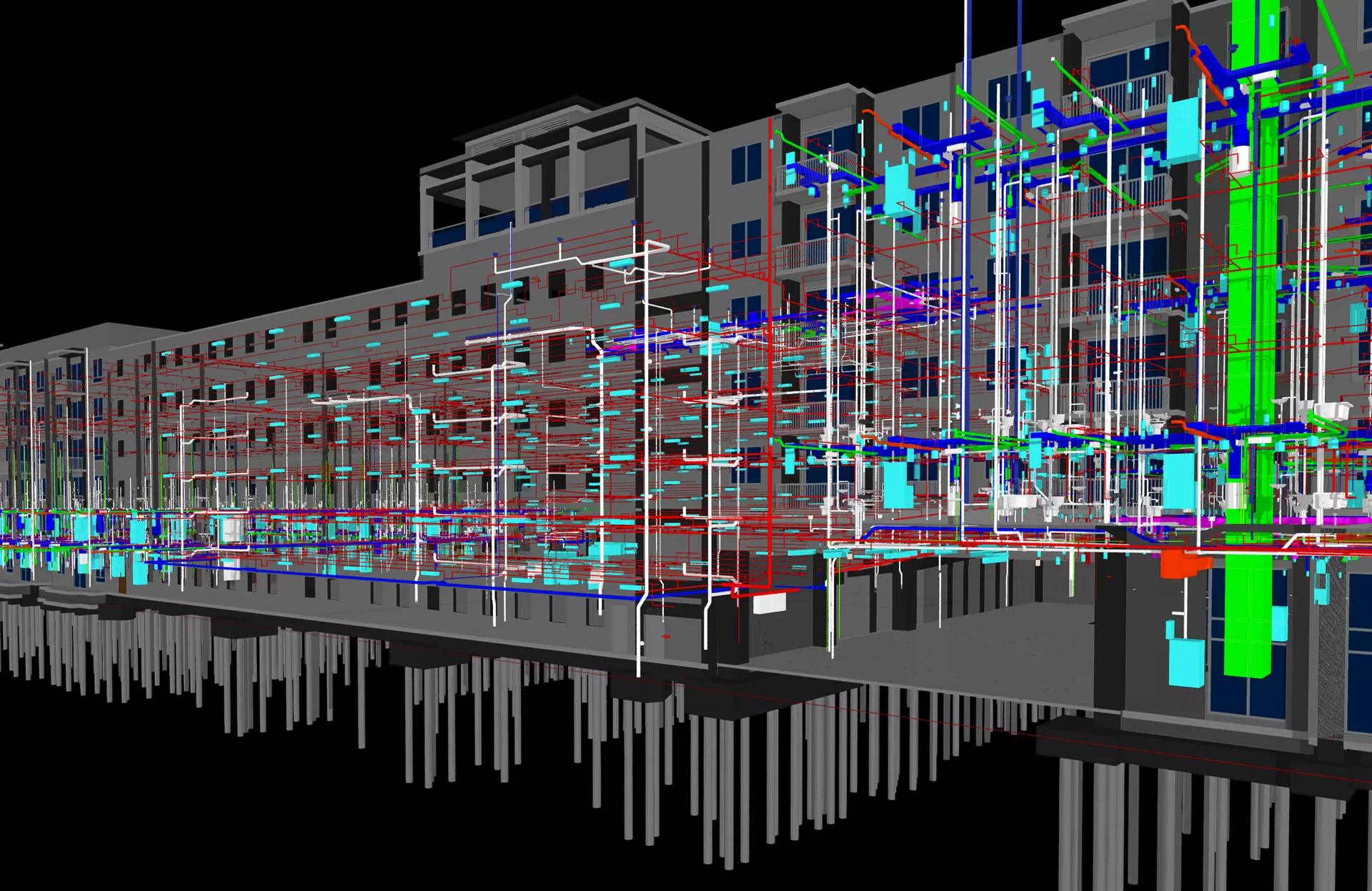 Impact on the Construction Process
The process took approximately 16 weeks and close to 640 hours to complete. We were made aware on multiple occasions that the advantage of using BIMWERX over trade contractors is the uniqueness of having multiple trades under one roof, effectively reducing the coordination time, and staying ahead of the construction team.
More Projects Completed By BIMWERX
BIM Coordination
218 Church Street
Altis Blue Lake
Altra Kendall
Ambulatory Surgery Center – St. Vincent
Ambulatory Surgery Center – Baptist Saint Augustine
Baptist Doral Neighborhood Hospital
Baptist Emergency Care Facility – Coral Way
Capitol Christian Music Group
First Bank Company Headquarters
Federal Reserve
Garden Residences
Gulliver Academy – The Center for Student Life
Key West International Airport – New Concourse A & Terminal Improvements
Ludlam Trail
Piazza Terminal
Reunion Rehab Hospital
TriStar Horizon Medical Center ICU Expansion
Mechanical BIM
218 Church Street
Altra Kendall
Ambulatory Surgery Center – Baptist Saint Augustine
Capitol Christian Music Group
Federal Reserve
First Bank Company Headquarters
Garden Residences
JEA Headquarters
Johnson and Johnson Vision - Jacksonville
Ludlam Trail
Mayo Clinic Expansion – Jacksonville
NGIS Mayport
Piazza Terminal
TriStar Horizon Medical Center ICU Expansion
Plumbing BIM
218 Church Street
AC Marriott - Savannah
Altra Kendall
Ambulatory Surgery Center – St. Vincent
Ambulatory Surgery Center – Baptist Saint Augustine
ARS Sonora
Buckingham at Brands East
Capitol Christian Music Group
Citizen M Hotel
Federal Reserve
First Bank Company Headquarters
Fort Lauderdale Police Headquarters
Garden Residences
Gulliver Academy – Academic Building
Ludlam Trail
Modera Gulch
Nashville Warehouse
Oakland Park Fire Station
Oakland Park Public Works
Park Landing Senior Affordable Housing
Piazza Terminal
SCAD Opus
Sedgefield Multifamily Parcel D
Stonefield Block D1
TriStar Horizon Medical Center ICU Expansion
Vicars Landing Clubhouse
Whitfield Hotel
Electrical BIM
218 Church Street
Altra Kendall
Capitol Christian Music Group
First Bank Company Headquarters
Federal Reserve
Reunion Rehab Hospital
Rutledge Pierson Elementary School
TriStar Horizon Medical Center ICU Expansion
Architectural/Interior Design BIM
Baptist Primary Care – Lake Asbury
Baptist Primary Care – Larmoyeux
Baptist Primary Care – South Hampton
Baptist Health – Bonneval Sleep Center Renovation
Boynton Commons
Episcopal School of Jacksonville – Student Life Center
Concierge Senior Living
Northpoint Village Shell Building
The Contemporary at Cutler Bay
BIM Constructability Reporting
Baptist Doral Neighborhood Hospital
Baptist Emergency Care Facility – Coral Way
Gulliver Academy
Gulliver Academy – Academic Building
Gulliver Academy – Gym and Parking Garage
i5 Wynwood
Town Center Gateway
Wynwood Quarter Parcel D