Case Studies
Kernan Medical Office Building
The Story
At 54,000 square feet, the three-story Kernan Medical Office Building, also known as Jax Spine & Pain Centers, is currently the largest multispecialty freestanding ambulatory surgery center in Jacksonville. The building's structure consists of tilt-wall construction with steel columns and beams and concrete on a metal deck.
The project was fully designed in Revit, including the architectural and structural design, and all building systems, including mechanical, plumbing, electrical, fire protection, and technology. The contractor trusted the BIMWERX team to manage the 3D coordination and model, coordinate, and produce shop drawings for the mechanical, electrical, and plumbing trade contractors. Most of the work completed is on the first floor, where the ambulatory services are located. The BIMWERX team also worked on the core and shell of floors two and three in preparation for tenant buildout. Florida Ambulatory surgical centers like this project are more complex than standard medical office buildings because they must meet the regulations of the Florida Department of Health, which includes the FGI Guidelines for Design and Construction of Health Care Facilities. These regulations require increased air filtration, minimum air exchanges, and air pressure relationships to adjacent areas. Additionally, medical gas and vacuum systems, as well as higher electrical loads (more conduits and conduit paths) are required in ambulatory office buildings to provide the necessary care to patients.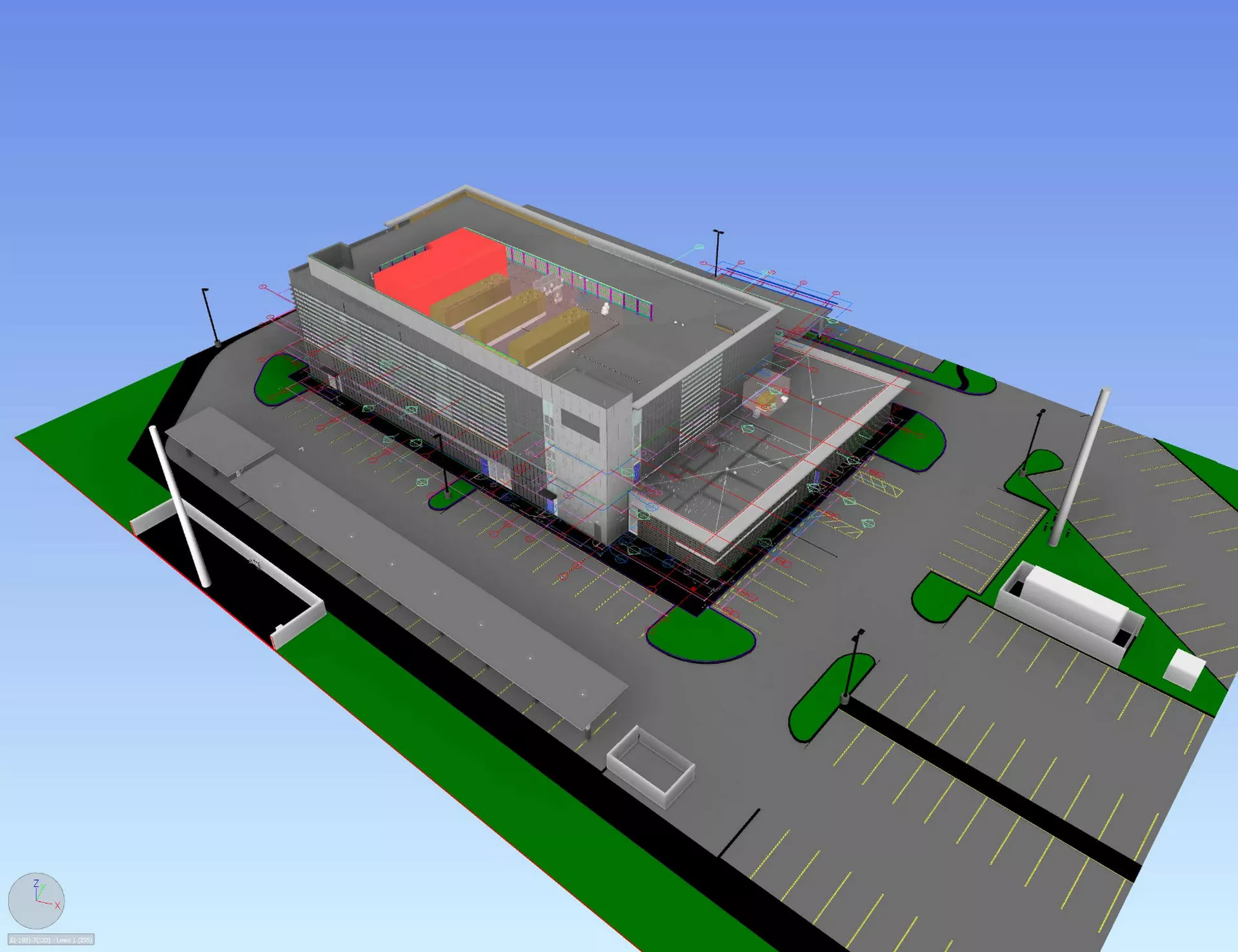 Objectives
Being an ACHA (Agency for Health Care Administration) project with special requirements in addition to standard healthcare needs, careful consideration is needed when coordinating the overhead conditions. Certain clearances must be maintained, and access to valves, pull boxes, mechanical controls, cable trays, etc., must be accounted for. All-access points mentioned need to be close to the ceiling, however, there is not enough space to run all systems at that elevation. The coordination also needed to account for the future expansion of the MRI room, which includes several large conduits, piping to the space, and a large quench vent duct running through to the roof of the building. Throughout the project, over 4500 issues were discovered and worked through, including clashes, and redesign.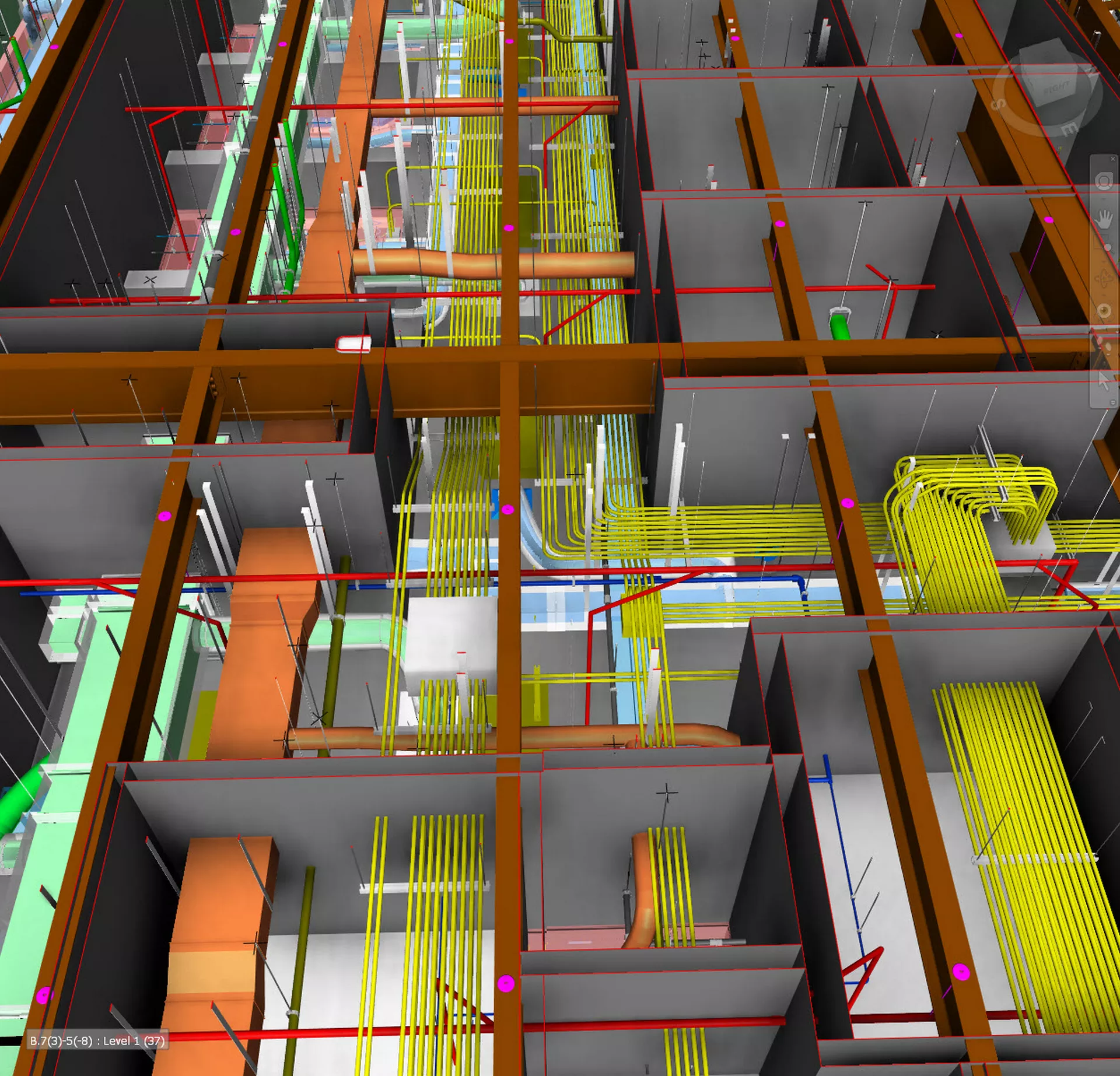 Impact on the Construction Process
The process took approximately 12 weeks and close to 800 hours to complete. The vast amount of duct, piping, and conduits above the ceiling was laid out and installed much easier utilizing the efforts of the BIMWERX team, saving nearly 4 weeks of installation time. The team caught so many issues early that it is nearly impossible to quantify the savings achieved.
More Projects Completed By BIMWERX
BIM Coordination
218 Church Street
Altis Blue Lake
Altra Kendall
Ambulatory Surgery Center – St. Vincent
Ambulatory Surgery Center – Baptist Saint Augustine
Baptist Doral Neighborhood Hospital
Baptist Emergency Care Facility – Coral Way
Capitol Christian Music Group
First Bank Company Headquarters
Federal Reserve
Garden Residences
Gulliver Academy – The Center for Student Life
Key West International Airport – New Concourse A & Terminal Improvements
Ludlam Trail
Piazza Terminal
Reunion Rehab Hospital
TriStar Horizon Medical Center ICU Expansion
Mechanical BIM
218 Church Street
Altra Kendall
Ambulatory Surgery Center – Baptist Saint Augustine
Capitol Christian Music Group
Federal Reserve
First Bank Company Headquarters
Garden Residences
JEA Headquarters
Johnson and Johnson Vision - Jacksonville
Ludlam Trail
Mayo Clinic Expansion – Jacksonville
NGIS Mayport
Piazza Terminal
TriStar Horizon Medical Center ICU Expansion
Plumbing BIM
218 Church Street
AC Marriott - Savannah
Altra Kendall
Ambulatory Surgery Center – St. Vincent
Ambulatory Surgery Center – Baptist Saint Augustine
ARS Sonora
Buckingham at Brands East
Capitol Christian Music Group
Citizen M Hotel
Federal Reserve
First Bank Company Headquarters
Fort Lauderdale Police Headquarters
Garden Residences
Gulliver Academy – Academic Building
Ludlam Trail
Modera Gulch
Nashville Warehouse
Oakland Park Fire Station
Oakland Park Public Works
Park Landing Senior Affordable Housing
Piazza Terminal
SCAD Opus
Sedgefield Multifamily Parcel D
Stonefield Block D1
TriStar Horizon Medical Center ICU Expansion
Vicars Landing Clubhouse
Whitfield Hotel
Electrical BIM
218 Church Street
Altra Kendall
Capitol Christian Music Group
First Bank Company Headquarters
Federal Reserve
Reunion Rehab Hospital
Rutledge Pierson Elementary School
TriStar Horizon Medical Center ICU Expansion
Architectural/Interior Design BIM
Baptist Primary Care – Lake Asbury
Baptist Primary Care – Larmoyeux
Baptist Primary Care – South Hampton
Baptist Health – Bonneval Sleep Center Renovation
Boynton Commons
Episcopal School of Jacksonville – Student Life Center
Concierge Senior Living
Northpoint Village Shell Building
The Contemporary at Cutler Bay
BIM Constructability Reporting
Baptist Doral Neighborhood Hospital
Baptist Emergency Care Facility – Coral Way
Gulliver Academy
Gulliver Academy – Academic Building
Gulliver Academy – Gym and Parking Garage
i5 Wynwood
Town Center Gateway
Wynwood Quarter Parcel D