Case Studies
Federal Reserve Adaptive Reuse
The Story
The Federal Reserve Building is an 18,500-square-foot building constructed in 1923 and is a National Historic Landmark. The building has been abandoned for approximately 40+ years and will be converted into a mixed-use development, including multiple restaurants, banquet/event space, and an exterior courtyard. The building required a complete replacement of building systems, including HVAC, Electrical, Plumbing, Technology, etc.
The project was designed in 2D AutoCAD; therefore, 3D coordination was only done after our involvement. The contractor understood how complex the project would be and hired BIMWERX to model the architectural, mechanical, electrical, and plumbing systems and coordinate with the rest of the team. The building was scanned and converted to a Revit structural model after demolition. Due to the historical nature of the building, there was a large amount of coordination with the existing conditions that was only possible with the BIM coordination process.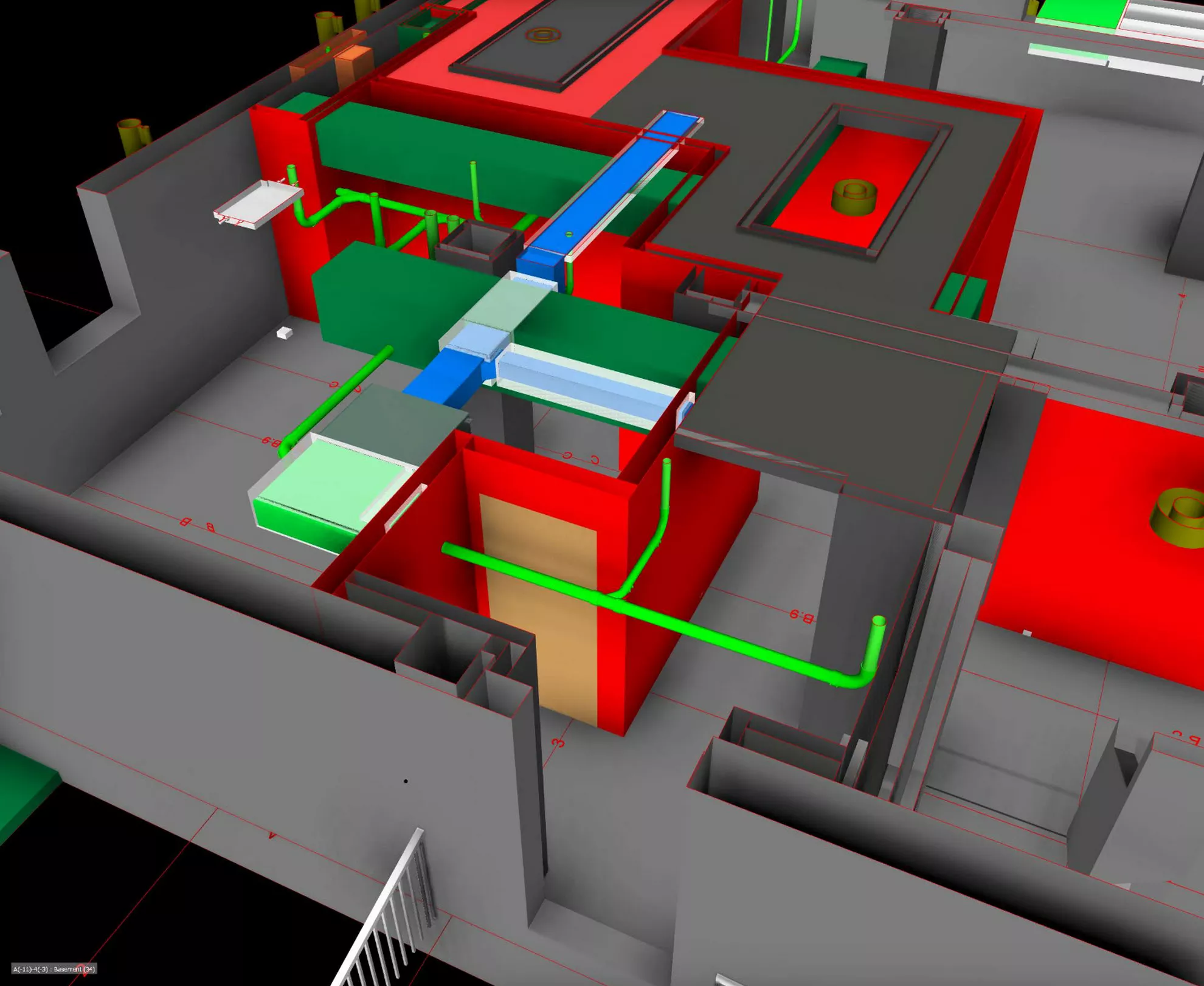 Objectives
The project was complex for being a smaller project. The point cloud scan found many of the as-built assumptions to need to be corrected, adding to the complexity. Due to the state of the building, multiple areas could not be accessed during the collection of as-built information during the design process. This led to floor-to-floor heights needing to be accurately documented, walls being thicker than shown on the drawings, and some HVAC elements not being accounted for. Each level was unique and had different heights within the level. BIMWERX was mindful that certain ceiling elements and asbestos-laden areas had to be avoided. Large concrete beams were found throughout the building, causing the original design not to work and resulting in a complete redesign of the mechanical and plumbing systems. The point cloud scan found many of the as-built assumptions to need to be corrected, leading to numerous architectural modifications. There were only 15 RFIs issued from BIMWERX. This was mainly due to the design team actively engaging in the process and attending the coordination meetings. There were nearly 1000 issues worked through, including clashes, redesign, and as-built adjustments.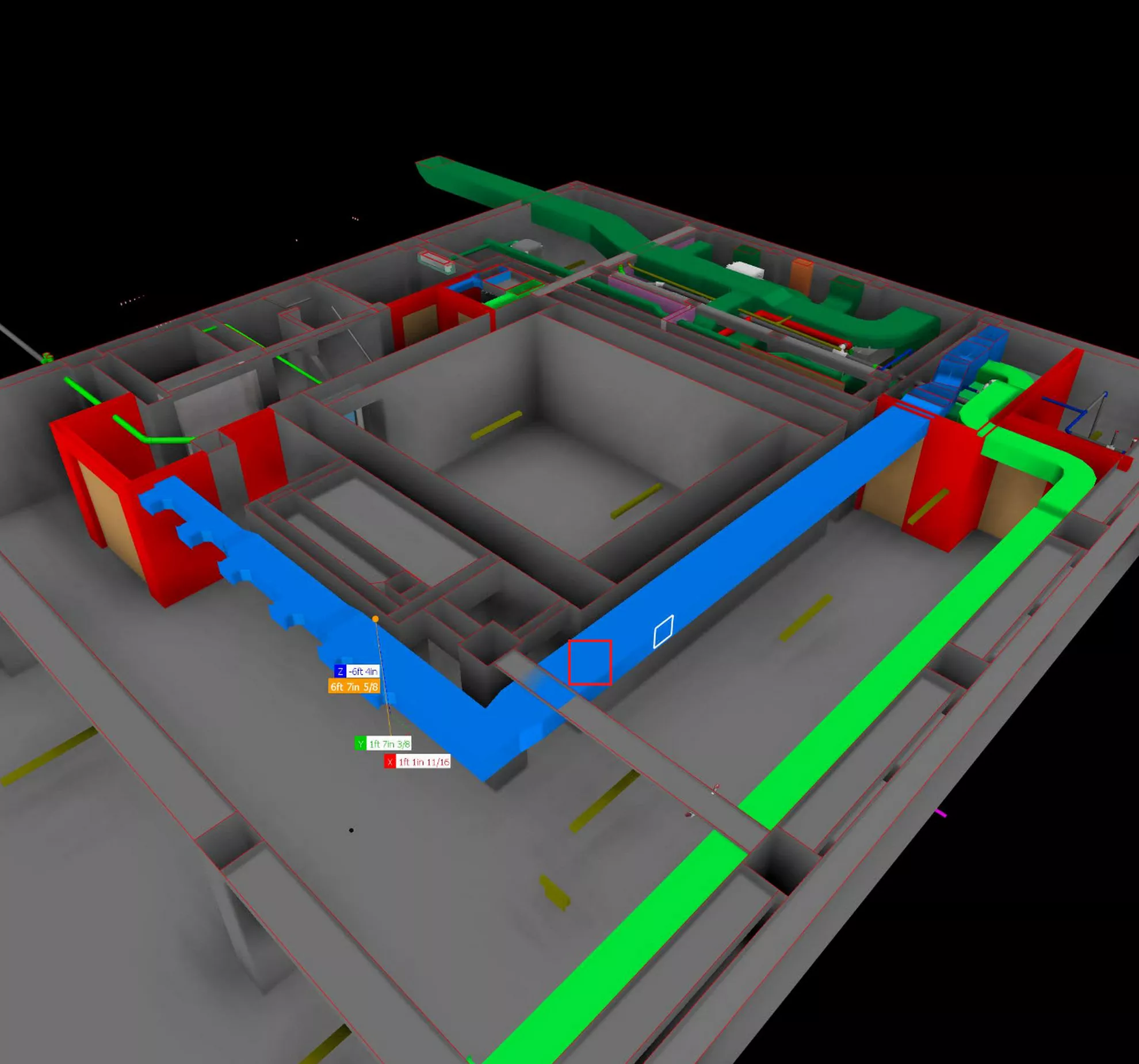 Impact on the Construction Process
The process took approximately 10 weeks and close to 580 hours to complete. BIMWERX was made aware on multiple occasions that this project would have seen construction schedule overruns and numerous change orders. The team was able to remove nearly all unknowns and streamline the installation process.
More Projects Completed By BIMWERX
BIM Coordination
218 Church Street
Altis Blue Lake
Altra Kendall
Ambulatory Surgery Center – St. Vincent
Ambulatory Surgery Center – Baptist Saint Augustine
Baptist Doral Neighborhood Hospital
Baptist Emergency Care Facility – Coral Way
Capitol Christian Music Group
First Bank Company Headquarters
Federal Reserve
Garden Residences
Gulliver Academy – The Center for Student Life
Key West International Airport – New Concourse A & Terminal Improvements
Ludlam Trail
Piazza Terminal
Reunion Rehab Hospital
TriStar Horizon Medical Center ICU Expansion
Mechanical BIM
218 Church Street
Altra Kendall
Ambulatory Surgery Center – Baptist Saint Augustine
Capitol Christian Music Group
Federal Reserve
First Bank Company Headquarters
Garden Residences
JEA Headquarters
Johnson and Johnson Vision - Jacksonville
Ludlam Trail
Mayo Clinic Expansion – Jacksonville
NGIS Mayport
Piazza Terminal
TriStar Horizon Medical Center ICU Expansion
Plumbing BIM
218 Church Street
AC Marriott - Savannah
Altra Kendall
Ambulatory Surgery Center – St. Vincent
Ambulatory Surgery Center – Baptist Saint Augustine
ARS Sonora
Buckingham at Brands East
Capitol Christian Music Group
Citizen M Hotel
Federal Reserve
First Bank Company Headquarters
Fort Lauderdale Police Headquarters
Garden Residences
Gulliver Academy – Academic Building
Ludlam Trail
Modera Gulch
Nashville Warehouse
Oakland Park Fire Station
Oakland Park Public Works
Park Landing Senior Affordable Housing
Piazza Terminal
SCAD Opus
Sedgefield Multifamily Parcel D
Stonefield Block D1
TriStar Horizon Medical Center ICU Expansion
Vicars Landing Clubhouse
Whitfield Hotel
Electrical BIM
218 Church Street
Altra Kendall
Capitol Christian Music Group
First Bank Company Headquarters
Federal Reserve
Reunion Rehab Hospital
Rutledge Pierson Elementary School
TriStar Horizon Medical Center ICU Expansion
Architectural/Interior Design BIM
Baptist Primary Care – Lake Asbury
Baptist Primary Care – Larmoyeux
Baptist Primary Care – South Hampton
Baptist Health – Bonneval Sleep Center Renovation
Boynton Commons
Episcopal School of Jacksonville – Student Life Center
Concierge Senior Living
Northpoint Village Shell Building
The Contemporary at Cutler Bay
BIM Constructability Reporting
Baptist Doral Neighborhood Hospital
Baptist Emergency Care Facility – Coral Way
Gulliver Academy
Gulliver Academy – Academic Building
Gulliver Academy – Gym and Parking Garage
i5 Wynwood
Town Center Gateway
Wynwood Quarter Parcel D